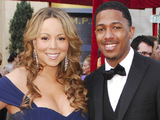 UPDATE: The names are in - and amazingly, they are not inspired by My Little Pony. From
CNN
-
Mariah Carey and her husband Nick Cannon have finally revealed the names of their twins who were born in Los Angeles on Saturday.

Their son is named Moroccan Scott Cannon, with the nickname "Roc". Scott is Nick's middle name, as well as his grandmother's maiden name.

Their daughter's name is Monroe Cannon. Mariah's rep says she does not have a middle name because Mariah herself does not have one. Monroe was named after Marilyn Monroe, who has been an inspiration to Mariah her whole life.
Aha! Mariah Carey's ho steez is finally explained! As for naming the child after the ethnicity of the Canal Street scented oil man (you know, the one with oil holster): No comment.
As you were.
What you know: After the world's longest pregnancy (don't act like you didn't notice this ho carrying high in the neck for 15 months...) Mariah Carey and Nick Cannon have welcomed a pair of twin babies - a boy and a girl.
What you didn't know: They haven't named the children - a sure sign of fuggery to come.
From Digital Spy:
Cindi Berger, a representative for the couple, confirmed to The AP that Carey gave birth today at 12.07pm EDT at an unknown hospital in Los Angeles.
The singer's daughter was born first, weighing 5lb 3oz, followed closely by a boy, weighing 5lb 6oz.
"My wife just gave me the most incredible anniversary gift ever in life!" Cannon tweeted earlier today. "I won't ever be able to top this!" YOU'RE MAKING THIS TOO EASY FOR ME - LOVE THN
Although the couple have yet to name the new arrivals, they are expected to renew their wedding vows tomorrow, having celebrated three years of marriage today.
Amazingly, I was just days away from leading a CIA team to the Carey compound for an orchestrated snatching of the sack full of pink feathers I was convinced Mariah Carey was keeping under her ass-skimming dress when I got news that - praise JAYSUS! - she was safely delivered of two human babies!
And all this time, I had her pegged to deliver a cheesesteak and a liter of orange Fanta! This is the best news since America assassinated Osama and dumped his body in the sea (oh yea, you're detecting shade there...)
Now onto the more pressing issue of what these
doomed
blessed arrivals will be named.
*snatches back curtain* I submit my Top 3 Baby Names for Mariah Carey:
1) Unicorn and Rainbow: Appropriately captures the "I'm a 5-year-old princess" vibe that Mariah Carey has cultivated for the last 17 summers while injecting a unisexual vibe. I mean, a boy OR a girl could be named Rainbow, am I right or am I right?
2) Honey and Bunny: It rhymes. What more could you want from baby names?
and my final pick (and the one I seriously DO think will happen)
3)Nick and Mariah: I could SOOOOO see these two doing that. Those babies won't have a chance.
Please say a silent prayer for the babies born into the glittery fuggery that is the Carey-Cannon dynasty.
ASHAY.