Easter is a comin' and if I know my audience like I KNOW my audience, you're all good, Christian, church-goin' folks.
*raises hands to the sky and shouts * EYEEEEAH GLORY!!!!!!
We all know Easter means just one thing - well maybe a few things something to do with blood of the lamb and resurrection or some jazz - but PRIMARILY one thing: Church. Fashion.

Halleleuuuuujah!

Well we here at THN like to take care of our audience. You don't think I would have you falling up in the pews of Ebenezer Holy Ghost Touched By An Angel Bethanny Bible Holy Gospel Trinity AME lookin' a hot steamy mess do you? No - my soul won't allow it!I put my Fashion Ministry on the case and dug up some looks for you (call me at 424-555-2033-30303 for deets)
You don't have to thank me - I do it for the love of the game:

Killin' 'em oh so softly with the lavendar...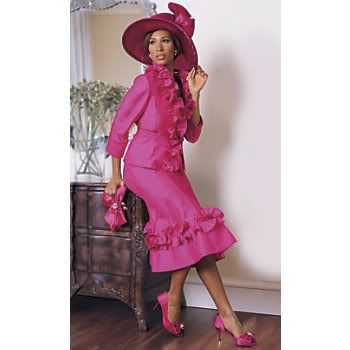 Better yet the magenta (all magenta ERYTHANG game proper...)



Shittin' on these batches from high above...



...and layin' batches down low with the hat game! (Cicely Tyson stand BACK.)

And last but not least, I'm gonna toss a little bonus in there for ya:



BLAM!

Ok, that last one was just some seedy tea I tossed in there because I'm a pure bastard in my heart. But I promise if one of you all shows up to Easter services with Patra's old errand-running braid wig on, I will drop and give you 50 ON THE SPOT.

In the interim between now and THAT particular episode, feel free to call me about any of the above fashions, and make sure to work on your calesthenics in preparation for the annual aisle dance.

EYEEEEEAHHH GLORY!