Braxtons New Reality TV Show
(I ain't built for this shit...)
I would have written something earlier dear readers, but the Tuesday night coonivision choke slam that was Braxton Family Values (the new Toni Braxton reality show) left me incapacitated: I spent most of the last 24 hours sitting in a corner, clutchin' a hot pink unbreakable comb and muttering incoherently about the weave shop.
That's what a sea kelp-lookin' wet and wavy weave will do to a batch! I had visions of whithered hairlines all. damned. night.
Thankfully, a couple of parishioners came over and fanned me back upright and I'm once again sane and able to document negro antics.
Like I said, I owe my convulsive episode to the fuggery extravaganza that is Braxton Family Values. Premiering Tuesday, the new reality tv show follows '90s soul diva Toni Braxton's attempts to revitalize a career ravaged by bankruptcy, personal and family illness and just general hard knocks.
From the top of the r&b charts to poppin' it in Las Vegas. See what Satan does!
In the meantime, we the
drama hungry
curious and deserving public are treated to a veritable waterfall of shenanigans care of each
careerless hangers on
Toni Braxton sister.
There's Trina and Tasia, and Tito ... something like that, hell I don't know, I just know all the Braxton sisters sit in the backseat while one sister rises above the rest - a veritable saint of coonanigans.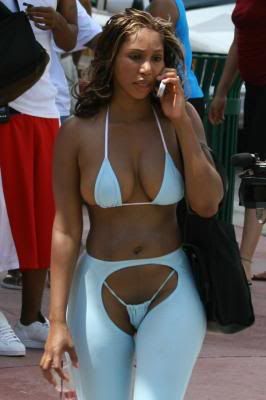 FUCKERY, THY NAME IS TAMAR

.
I feel moved to pledge my undying loyalty to this saint of jackassery. Not only does she set hearts and Twitter aflame by incessantly repeating her .com catch phrase (that's tired.com!) but the sheer disrespectfulness of her weave is downright intimidating.
You GOTS to be scared of a batch willing to slap a mop head on her dome and look you dead in the eyes like ain't nathan wrong. (In all fairness, the Braxton sisters are competing equally to win the title of the butt of most bad weave jokes but more on that later.com)
But the TRUE fierceness erupted when - after confronted by Tamar about refusing to provide her angelic vocals with an album deal - her husband sat her AND her Sensationnel instant weave ALL THEE WAY DOWN.
"If you don't listen, YOU CAN'T WIN!" YAAAAASSSS. In. The. Paint.
Personally, I strongly suggest she work the assets she already has. Why focus on being an r&b star when her cups overfloweth - you'd better wriggle back into that white cooch holster and get you one of those XXL Magazine covers! Ask singer Mashonda and
her skyscraper crotch
if a tittie shot won't keep Rent-A-Center off your ass for a few months... I'm just sayin'!
Anyway, I'm hooked on this Toni Braxton reality show like Aretha Franklin on butter flavored Crisco. Nene Leakes who?
Rain advanced fuckery down on me Braxtons!!!!!