Believe it or not dear readers, THN DOES have remnants of a soul - tattered though they may be.
I know that in the grand scheme of things
male Salt-n-Pepa
Kid-N-Play have suffered enough: The one has gone through life with an extreme form of head to toe vitaligo, the other, saddled with rat-like facial dimensions.
Life ain't been no crystal stair indeed!
And so, I sat on this post for a week. Theeeeen I saw
this bit
about KNP being involved in a light skin vs. dark skin dodgeball tournament, and Jaysus' barber told me to ring the alarm. So now I present:
Kid-N-Play -- a veritable yin yang of fuckery.
I, like many of my fellow hostile negro Americans, have employed a vast array of herbal medications, psychiatric practices and malt liquors to erase vivid memories of the outrageous shazzamery that was the '80s and '90s - up to and including all manner of Wave Nouveau, colored denim outfit and THIS type of shit: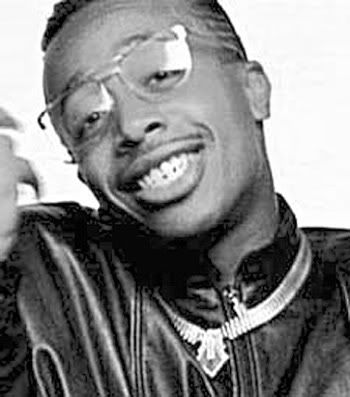 But every now and again (ie. this morning) I inadvertantly fall through a wormhole and it ALL. COMES. BACK.
I was in the middle of my normal AM routine – eating candied bacon, drinking Southern Comfort and watching my DVDs of Martin – when I noticed
Powder
Kid, from Kid-N-Play saunter across the screen. (This was, of course, the endlessly hilarious Forever Sheneneh episode.)
There was much fuggery on display, not the least of which was Kid's Biggie Smalls-style shirt complete with chest macaroni peaking from the top. But my eyes zoned in on ONE particular article of fuggery:
THE MAN HAD CUT A HOLE IN THE TOP OF HIS HAT AND STUCK HIS LOCS OUT SAID HOLE.
I want you all to just pause for a second and listen while I drive that point home: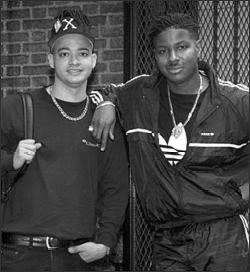 THE MAN HAD CUT A HOLE IN THE TOP OF HIS HAT AND STUCK HIS LOCS OUT SAID HOLE.

I'm going to make a confession: In my backslidden days of youth, I had a crush on that albino. Play - or as I like to call him, Chocolate Hitler - got none of my love. I was jonesin' on that chalk-faced mullato pretty hard. I had posters. I had elaborate fantasies. I even watched the cartoon and had a cassette tape. But damned if, looking through the lens of jaded, perpetually hostile adulthood, I can even remotely understand what in the HAYLE drove me to embrace Casper so thoroughly.
Indeed, looking back at the situation, employing the sophisticated modern fuggery-detection techniques of the 21st century, I've been able to conclude without a doubt that Kid-N-Play were totally wack.
A little background:
The pair met while performing in rival high school groups The Turnout Brothers (FUCK. LIFE.) and The Super Lovers (NO SERIOUSLY, FUCK LIFE - LOVE THN, and initially formed their duo under the name The Fresh Force Crew. In 1986 She's a Skeezer and Rock Me were recorded. (OK SERIOUSLY, WHAT IN THE FUCK.) By 1987 they had changed their name to Kid n' Play.
According to this little bio, which was BTW gleaned from their
FACEBOOK PAGE
(jaysus, why hast though foresaken me?????), they recorded about three albums between 1988 and 1990, with their trademark being the focus on "positive lyrics backed by pop-friendly instrumental tracks."
Hits included "Rollin' With Kid-N-Play" and "Funhouse."
Oh, and they took a lot of pictures like this:
and this: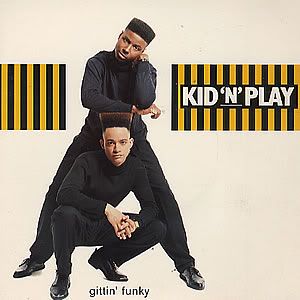 (I'm not sure what "gittin funky" involves, but I'm 100 percent certain that it's RuPaul approved.)

One had 10 inch hair and carried himself like a 13-year-old girl on her first day of middle school; the other resembled a black version of a nazi leader. Their claim to fame was kicking their feet at each other. And oh yes, they took pictures like that shat I just showed you.
I'm not sure when all of the above dawned on me, but but by age 13 or so, I had abandoned my Ivory Lover in favor of some other wack ass 1993-type bama (we won't reflect on the X Clan years...). I don't have any extra special purpose to this post, beyond saying
WHAT. THE. FUCK.
Sometimes that's enough.